Commercial Content | 18+ | T&Cs Apply
JAbet Promotion Code
JAbet is operated by JA Sportsbook Ltd, a company that is registered in England and Wales and regulated by the UK Gambling Commission. The operator specialises in exchange and pre-match betting for tennis so customers can back and lay players in-play or before an event. Tennis betting has been a huge growth area in sports betting over the last ten years and JAbet are trying to establish a niche for the sport.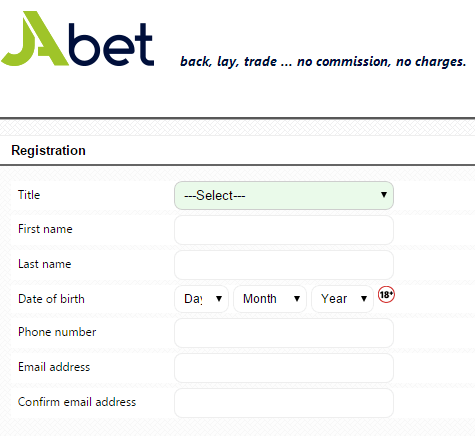 At the time of this review there was no bonus code or promo code and no new customer signup offer. Free bets and promotions do not apply for existing customers. Potential new account holders must visit the JAbet website to register. There is a simple joining process which involves entering personal and account information. There is no mobile download for a mobile app.
Promotions and Bonus Code
JAbet do not offer a signup off and bonus and at the time of writing the bonus code or promo code was not known. Virtually every online bookmaker offers a welcome bonus for new customers and ongoing promotions for existing customers. Some competitors offer Acca Insurance promotions for tennis which involves stakes returned in betting funds as a free bet if one selection in an accumulator of five or more options does not win. JAbet do not provide free bets or a new customer offer as at the time of this review.
There is nothing of this nature promoted on the JAbet site but the operator does boost prices during live tennis matches. The objective is to maximise the number of bets matched and this happens with the value of a bet being increased if the odds grow during the run up to a match. The Betting Slip will display the word 'Boost' and the odds will reflect the price increase but be rejected if the price moves the other way.

About JAbet
The first stage of the JAbet business plan is to offer customers pre-match and in-play markets for tennis. Football will be added to the service soon and then customers will be able to bet before events begin on these sports. Other sports are projected to be added at a later date but initially the main focus will be on football and tennis which are the most popular betting sports in the world.
JAbet are trying to be innovative in a very competitive marketplace. The site offers the following features and tools which currently can be used to bet on tennis matches:
Pricing software that creates JAbet's own prices and do not replicate prices at other sites
Lowest margins with zero commission
Back and lay exchange betting on all markets
Cash available to invest based on net liabilities
Cash out option
Enhanced odds
No restrictions on winning customers
The last feature is an ambitious claim and time will tell if JAbet stand by this promise. At this stage it is unclear if liquidity will allow significant bets and Betfair dominate the exchange betting market for most sports, including tennis.
Tennis Betting
At the start of the century, tennis betting was a relatively minority interest. Bookmakers offered odds on the winner of the Grand Slam tournaments and some match betting but not much else. In-play betting on tennis virtually did not exist. There has been a huge growth since due to the arrival of exchange betting and much more tennis shown live on television. The first tennis live bet took place in 2003 and now live betting on the sport is huge.
Tennis lends itself to in-play betting due to the constant swings in the score and the related odds. Betting markets change after each point and it is common in a match for both players to be the favourite and underdog at different times. There are many opportunities to cash out a bet or lay an outcome having placed a back bet and vice versa. The sport provides many trading opportunities due to price fluctuations.
The key event in any tennis match is a break of serve. This happens more often in women's matches than men's and some surfaces lend themselves to more breaks. Across the men's game one break of serve will often decide the outcome of a set so odds swing in favour of the receiver when there is a break of serve. Even breaking on one point will cause a shift in the odds and the receiver will become a shorter price. Set and match betting is highly sensitive to a break of serve.

Exchange Betting
Exchange betting has only been an option for bettors from the start of the century. The concept was introduced by a company called Flutter but it was developed and properly promoted by Betfair. The company now dominates the market and over 90% of exchange bets are placed with Betfair. With trust and reputation comes liquidity which is the key to the effective operation of a betting exchange.
Matched Bets
The concept of exchange betting is bringing together customers who have an opposing opinion. One customer may believe a player will win a match and another will disagree. So there is one potential match bet and one potential lay bet. An exchange matches bets based on a mutually agreeable price for backers and layers. Some bets are matched, others are unmatched and a third group are partially matched.
One of the benefits of a betting exchange is that if a bet is not matched it can be kept in the market until the agreeable price is reached. Customers can request a price for their stake and if an opposing player likes that price the bet is matched. Markets are ever changing and fluctuating based on market forces. If there are more backers than layers the price will fall and move in the opposite direction when there are more layers than backers. At the equilibrium price bets are matched.
Betfair
The challenge for new exchange bookmakers is gaining market share from Betfair. They can afford to advertise in the racing Press and on television in the UK. The almost guaranteed liquidity attracts more liquidity and this feeds on itself. Conversely, JAbet needs liquidity to gain market share and are not as wealthy as Betfair so can't afford to promote their site as much as the dominant force in exchange betting.
New entrants in the betting exchange market try to generate business by offering low commission rates. In the exchange model the bookmaker does not make money from the bets but by charging customers commission. Betfair can afford to apply the highest commission rates in the industry as they are assured of market share. However, even zero commission rates will not attract backers and layers to a betting exchange if there is no or negligible liquidity.
Back And Lay At JAbet
JAbet is the first sportsbook to offer zero commission for back bets and lay bets across the board. Other betting exchanges offer zero commission for specific sports and events as part of promotions. Generally all other exchanges charge players a commission when they place a bet. JAbet may charge commission if they acquire more liquidity and offer an alternative to Betfair.
Back And Lay Bets
A back bet is shown by blue odds and involves a bet for something to happen as with traditional betting. For example, a customer might bet that Andy Murray wins a match 3-0 and if he does it is a winning bet. A lay bet shows the odds in pink and is a bet that something does not happen. If Andy Murray wins the match by any other score the lay bet is successful.
The Bet Slip shows the stake, odds and liability, blue for a back bets and pink for lay bets. If the odds change during the bet placement process the new odds will be shown and the customer is asked if that is acceptable and if so the bet is matched. A bet can be cancelled before it is placed and this might happen if there is a price change.

Commission
If a backer has a bet matched at 4.0 (3/1) for a stake of £50 and the bet wins the net return is £200. This settlement equates to no commission on winnings. If the commission rate is 5% the return is £192.50. The profit is £150 so at 5% the commission is £7.50. This percentage could be the difference between profitable sports betting and losing money.
Traditional bookmakers don't charge commission or betting tax. However, an adjustment is made in the fixed odds which means exchange odds are better than for the same event with a normal sportsbook. Low commission rates are a feature of betting exchanges other than Betfair but JAbet offer them across their full range of tennis betting markets for back and lay bets.
It is debateable if no commission is a factor when customers consider placing a bet but the strong branding of Betfair is a huge factor across the exchange betting market. Other exchanges have failed to get a footing so JAbet face a challenge in acquiring a decent share of the market. Liquidity more than commission rates is key.
Betting
JAbet specialises in tennis but the sport provides a great deal of scope for betting markets. Before the growth of in-play betting the match result was all that usually offered and maybe set winners for matches in the major tournaments. Tennis has many facets which lend them self to betting. A tennis match is divided into points, games and sets for scoring and bookmakers allow customers to bet on each element. Some bettors like to place wagers often and a tennis point takes a few seconds. Bets are settled promptly so a customer has access to betting funds and can place the next bet quickly. Tennis has an unambiguous scoring system which can be clearly displayed on a bookmaker's website. There are no grey areas within the tennis scoring system and there are plenty of sources of scoring information. There are many tips available for tennis bettors.
Tours
JAbet offers odds for the main professional tours which are the ATP Tour for men and WTA Tour for women. The company also has betting markets for Challenger Tour events and International Tennis Federation tournaments. Singles and doubles for men and women are covered. The site also provides odds for the Davis Cup and Fed Cup which are the main international team events for men and women. There are also ante post odds for the four Grand Slam tournaments: Australian Open, French Open, Wimbledon and US Open. From time to time JAbet may offer special bets related to tennis. Odds are available for tennis matches both before the event starts and in-play.
The most prestigious and bet on Tour in the world is the ATP Tour, which consists of men's tournaments from January to November, when the ATP Tour Finals are played. The current venue is the O2 Arena in London but the event has been played in different locations around the world. Professional tennis is played on the following surfaces: indoor hardcourts, outdoor hardcourts, carpet clay and grass. The surfaces produce different records for breaks of serve and length of matches. Points on grass are quickest and the serve is most dominant while clay court rallies are the most extended. Games on hardcourts and carpet are dominated by the serve.
Range Of Markets
A typical in-play range of markets for a men's singles match on the ATP Tour will feature the following and sometimes more:
Match Winner
Match Handicap
Total Games
Set Betting
Set Winner
Game Winner
Point Winner
Game To Deuce
Back odds and lay odds are displayed for each element of the scoring. Lay odds are always greater than back odds in line with the mechanics of exchange betting. These markets are not available on a mobile app.
The scoreboard for each match shows the current points, games and sets score. However, this in formation is only provided as a guide and customers are reminded that JAbet are not responsible for its accuracy. Live television and streaming and sports score websites provide real time scoring.
Cash Out
The Cash Out facility allows customers to close a bet before expiry to guarantee a profit or minimise a loss. Traditional bookmakers have replicated this facility to make their sportsbook operation more akin to trading. Tennis lends itself to cashing out bets due to the fluctuations in the score and the related odds. A customer may cash out when they have placed a back bet and the lay odds are lower. Conversely, the cash out option might be used when a layer can back the same outcome at bigger odds. A bettor may also close a bet when the odds have gone against the selection to limit the damage from a potentially losing bet. However, after a bet has been cashed out the odds may move even further in the desired direction which means some winnings have been forfeited in return for knowing the definite profit from a match before it is over and bets have been settled. The Cash Out is not offered on a mobile app.
How Cash Out Works
Cash Out with JAbet gives customers the option to have bets settled or partly settled before the outcome is known and the returns or losses are determined. Cash out can be for 100% which levels the position on all bets or partially for increments of 10%. Cash out can be used for positive or negative positions. The cash out value for a market is displayed in green in the market header. A cash out slip is opened in the same place as the bet slip when this value is pressed. A list of all markets on which there is a position is displayed on the cash out page. Cash outs are shown as bets under 'My Bets' in the same way as original bets. Cash outs are subject to a delay and may be rejected or enhanced depending on any odds movement.
Bet Mechanics
JAbet betting procedures are subject to the following mechanics:
Bet Delay
JAbet invests in providing scores updates as near as immediate as possible. The company uses the fastest sources to ensure the current score is displayed in real time. However, despite advances in transmission equipment and the gathering and presenting of information a delay is unavoidable even though this can be measure in seconds. Betting on tennis is lucrative and opens up opportunities to exploit more up to date information. In fact some betting syndicates employ people to attend tournaments and feed back live scores. Sites offer tips for tennis matches.
To protect themselves from abuse JAbet applies a time delay to all betting markets. This can be as little as 3 seconds but JAbet have the right to set the delay to ensure maximum protection. Groups and individuals looking to place bets fully aware of the outcome are sophisticated and the most reliable preventative measure is the bet time delay. This is common practice with online sportsbooks and sports but particularly relevant for tennis. Score boards and prices are subject to a delay of 30 seconds from outside a customer account. Real time scores and odds are available to bettors who register and have logged in to their account.
Net Liabilities
The nature of backing and laying as part of the exchange model is that a bettor may have opposing positions in any market. JAbet counter the opposing bets to calculate a net position. Betting funds in an account will be required to cover the worst case scenario. One bet is offset against another to create the net position. There might be a zero liability even if there are unsettled back and lay bets. It would be a huge drawback if customers could not bet due to the total overall outstanding bets rather than a calculation of net and the balance of liabilities.
During bet placement a 'What If' feature is activated which shows the position on each outcome if a bet is placed. Customers can then cancel the bet or wait for a more advantageous market position with respect to their selections. This function is shown for each event and not from the Home Screen. The balance on an account is the value of betting funds less the value of outstanding bets. Cash out amounts will not be credited until relevant bets have been settled once the outcome is known. There is a possibility that markets could be voided in line with the terms and conditions if a match or element of a match cannot be completed to provide a definite outcome.
Customer Support
JAbet can be contacted using a generic email address for their Help Desk or through the company Twitter account. Social media is used to publish and inform customers about the latest odds, offer insights about upcoming matches and opinions about professional tennis and tennis related betting markets. The JAbet blog provides betting previews, reports and betting advice. No JAbet mobile app provides facilities for pre-match and in-play betting on the move after a mobile download. In line with the desktop version there is no welcome offer for new mobile customers. JAbet strives to provide an excellent customer experience for those who bet on tennis and will be looking to do something similar when football is added to the product range. At the time of writing there was no new customer offer.
Banking
Customers must deposit funds into an account before betting can begin. New account holders must register a valid payment card and details will be stored with WorldPay. JAbet will only record the last four numbers of an account number to identify depositing customers. JAbet must verify the identity of a customer before allowing then access to funds. This is required to prevent underage gambling and documents must be approved before withdrawals are possible. This process can take up to two days and once accepted a customer can take out funds using the card that was registered in order to make a deposit. Limits on deposits can be specified by customers who may not be able to control their gambling. This is one of the measures JAbet adopts in order to promote responsible gambling.