Did you know that many online betting operators give you the opportunity to request a bet? This feature is also known as build a bet. Here, we'll show you how to request a bet with operators like bet365, William Hill, Ladbrokes, and others. Learn how to make customised bets of your own with the help from these operators.
The Request a Bet feature is relatively new among the online bookmakers. It was created with the purpose of giving players more flexibility when it comes to placing their bets.
Your betting experience becomes better as you start using your imagination to build the perfect bet or combination of bets.
In this short guide, we will cover our betting experience with bet365's Bet Builder. We will also cover other brands on the market and see what similar offers they have.
Keep reading the review below if you want to find out more about this neat feature. Also, you will get to see the difference between what some of the most popular online bookmakers are offering in the market.
How can I request a bet at bet365, William Hill or Ladbrokes?
If you are not satisfied with types of bets that are available at your favourite online bookmaker, there is a way to change that. Most of the time, these bookmakers allow players to request a bet and, in a way, give them an opportunity to build bets of their own.
With most of the operators, players only need to have a Twitter account and a good idea for their custom bet in order to request a bet. Each of these bookmakers uses different hashtags on Twitter to group the bet requests from their players.
For instance, if you want to build a bet at Ladbrokes, you need to use a hashtag #getaprice. The same procedure goes for William Hill, only this time you would use a hashtag #yourodds.
We've tested bet365 and their Bet Builder feature. This feature gives you the option to create bets of your own and then use them as a bet template for other games on this platform.
Keep reading to find out how to build a bet at each of these online bookmakers.
bet365 Bet Builder
bet365 Bet Builder gave us the freedom to put up to 6 different selections in order to create a new bet which we could later use on different games.
The whole process seemed very easy and smooth since we didn't have to talk to the customer support team and negotiate the odds or anything similar to that.

Screenshot from Dec 2023
For instance, if you wanted to combine different types of bets, your bet slip could contain a mixture of these bet types:
Match Outcome
One or both teams to score
Corners
Players to score
Cards, etc.
Once you make your custom bet slip, you'll be able to use it on the other games in this specific sports category. This makes the betting experience a lot more interesting as you'll have a good time figuring out the best strategy which worked for us.
The only downside we've found is the fact that bet365's Bet Builder only works on Soccer/Football matches. This is very limiting and it would be great, in the future, if one could create one's own bets for other sports categories like basketball, motorsport, cricket, etc. For more details on this topic, you can read bet365 terms and conditions regarding the bet builder.
Your odds feature at William Hill
We've decided to review this William Hill's bet builder service as we find it very popular among the punters in the UK. What we found was a very different procedure than what the bet365 feature provides.

William Hill has their own version of the Request a Bet feature called Your Odds.
The way Your Odds works is something like this:
You need to submit your bets combination in a tweet using a hashtag #yourodds on William Hill's official Twitter account @williamhill.
After that, their social media team will give you an answer containing the odds that they think is fair for that particular combination of bets.
Finally, follow a link from their Twitter comment which will take you to the William Hill's website to add the requested combination to your bet slip.
Although the bet365 Bet Builder gives you a faster service, in the sense that you do not need to wait for the customer support to answer you, Your Odds feature at William Hill seems to give you more flexibility.
With Your Odds, you can think of any kind of bet and offer it at William Hill's Twitter page. If you are satisfied with the odds they've offered you, you can enjoy the bet that you've created on your own. This makes your betting experience more interesting.
As you might have guessed, this takes more time since you need to wait for the William Hill's staff to give you a feedback on their Twitter account and provide you with an offer. If there are many players submitting their requests at the same time, you might have to wait a while.
How to GetAPrice with Ladbrokes
Ladbrokes have their own Request a Bet feature too. It is called GetAPrice and it works similarly to William Hill's Your Odds.
You just need to contact Ladbrokes Twitter account at @Ladbrokes and use the hashtag #GetAPrice. After consideration, Ladbrokes trading staff will contact you on Twitter with their price for the bet you proposed.

As you can see, the Ladbrokes service is using this more open concept of building custom bets.
If you go to Twitter and search for this particular hashtag, you'll see the requests that Ladbrokes' players are making. This is great as you can take a look at some of the ideas that are out there. Use them as an inspiration for creating your own bet.
Use the 888Sport Market Maker to Request a Bet
888Sport also provides its players with their Request a Bet product. It is called 888Sport MarketMaker and it was in the testing phase during the 2018 World Cup.
From what we've seen, the players' response was positive.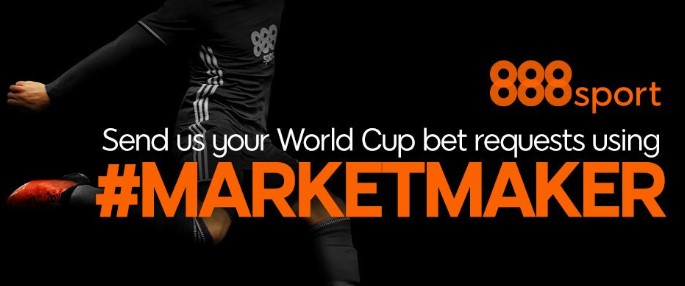 At the moment, there is no additional information about this Request a Bet product as we haven't seen many requests from users on the 888Sport's Twitter profile.
There is no official report that confirms whether players can still use the 888Sport MarketMaker.
Request a Bet Revolution
As you can see, this neat feature has become a widely accepted practice lately among the online bookmakers. Even though each one calls their Request a Bet product differently, the idea behind it remains the same. You know what your perfect bet looks like. The operator can give you an offer for that particular type of bet.
Don't forget that bet365 gave us the opportunity to place up to 6 different selections in their Bet Builder.
William Hill, Ladbrokes and 888Sport have a very similar concept of building your own bets. Just remember that 888Sport doesn't seem to promote this feature on their site. Perhaps it might still be in the testing phase.
If using their Bet Builder feature seems a little bit rigid, you can try William Hill or Ladbrokes instead. Their Request a Bet products are flexible, but keep in mind they take more time to be processed by the social media team.
The latter three require you to have a Twitter account and use the correct hashtags above.
For more options, read these full operator bonus code reviews: