Commercial Content | 18+ | T&Cs Apply
Eurovision betting – 7 tips
Welcome to your betting guide to Eurovision 2017, held this year in Kiev, Ukraine. Get your eyes and ears ready and learn how to bet on Eurovision, Europe's biggest music show! And prepare yourself for the most recognisable, cheesiest and most bizarre music show on the planet – Eurovision 2017! Now with more music. Probably.
Bet on an outright winner here!
Eurovision 2017 in Ukraine
This year's Eurovision will be held in the Ukraine. It is just the second time that the contest will be held there. The residents of Kiev had had to wait 12 years for it to return. I'm sure they haven't been too upset.
As always, there will be performances – and performers – that will be trying very hard to be remembered for many years to come. Last year's winner, Jamala, won with a song that had politically charged lyrics. Although, it didn't really become a hit after that. Will we hear any good, memorable songs at Eurovision 2017? It's hard to say, really.
Betting on Eurovision
Granted, as you are reading this, you are probably somewhat interested in the event and also have a tolerant attitude when it comes to cheesy music. You'll have to if you want to have some fun watching Eurovision and especially if you also want to bet on it. You see, betting on Eurovision is not only listening to your gut but also the songs and – mainly – other people's opinion. You might not like the performance yourself, but check who the artist is, what their story is, where they come from and which country they represent. For these reasons, you can bet on the winner of Eurovision 2017 without knowing many of the entries.
The theme
Since 2002, every Eurovision has had its own unique theme that was hardly recogniszable if you hadn't read about it beforehand. The first theme, "A Modern Fairytale", was established for Eurovision 2002 in Tallinn, Estonia. The themes for the next competitions were about as much fun as a burst balloon. We've endured "Feel the Rhythm!" (2006, Athens, Greece), "Confluence of Sound" (2008, Belgrade, Serbia) and "Feel Your Heart Beat!" (2011, Dusseldorf, Germany). But in 2013 politics and social awareness slipped in and the themes started to look like this:
Eurovision 2013: "We Are One" (Malmo, Sweden)
Eurovision 2014: "#JoinUs" (Copenhagen, Denmark)
Eurovision 2015: "Building Bridges" (Vienna, Austria)
Eurovision 2016: "Come Together" (Stockholm, Sweden)
Eurovision 2017: "Celebrate Diversity" (Kiev, Ukraine)
But most songs don't really have anything to do with the theme, although you could try and predict which song is going to be received better than others based on how much it relates to the present theme and also how the country is doing at the moment. For example, let's go back to Russia at Eurovision 2015. The world didn't exactly like the country Polina Gagarina represented (in 2014 Russia got booed by the audience due to the conflict in Ukraine), but her beauty, her strong voice and the song yearning for peace and unity stole the hearts of many. For a long time, the votes had her in first place. It was a duel between Gagarina and Zelmerlow for the all important points and ultimately it was the Swede who won. But everyone remembers the Russian's beauty.
Australia? Are you lost?
You have to be a die hard fan of the Eurovision song contest to really understand what is going on most of the time. But I think that is part of its charm. It's cheesy, entertaining and completely baffling. One of the most confusing things if you are not a Eurovision song contest regular, is that Australia take part. No, that isn't a typo. Australia, the country that is about 8700 miles away from Europe.
Australia being part of Eurovision is a controversial subject. Inviting Aussies to perform at Eurovision 2015, the 60th anniversary of the show, as a touch of friendship to a country that loves the competition was one thing. But having them back is something else. Some argue that it may cause damage to the spirit of Eurovision as it is all about cheering for European artists – and giving points to your neighbours. There are some fans that believe that having this extra country competing might mean "the neighbours" emerge as more successful than those who deserve it.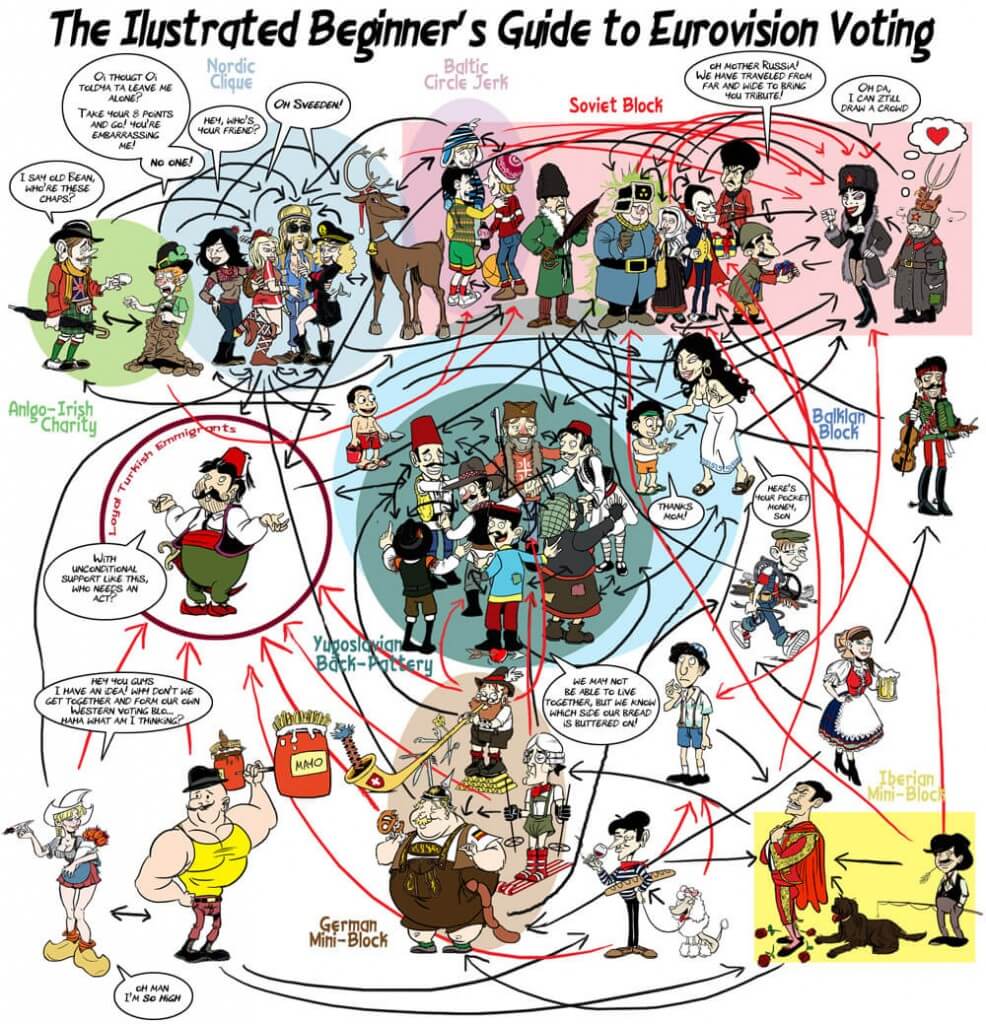 Clearly, there is no room for Australia in that crowd…
(Source: http://rocr.xepher.net/weblog/eurovotes2.jpg)
Eurovision winning odds for Australia
Australia have made an impressive start as the new comers to the Eurovision song contest. In their first year they finished a respectable 5th. Last year they went one better and finished second. Perhaps they're benefiting from the fact Australia at Eurovision was new, exotic and drew attention. But how will they do this time? According to odds supplied by Unibet, bet365 and other bookies, Australia's are 6th favourites to win Eurovision 2017. So with their continued improvement in this competition, the 33/1 currently available could be a good outside bet.
So how should you bet on Eurovision?
There is no easy answer to that question. You need to be observant and do some research on previous and current trends. For instance, after a great reception for a duo from the Netherlands in 2014 (although ultimately unsuccessful), there were lots of man/woman double acts in 2015. There are also less and less Carnival-in-Rio-style performances giving more space to the music and less to flashiness – although there still are countries that refuse to let that go. But the last winning group performance that was full of sparks, fire, costumes and dumbfounded faces of the audience was in 2006 when a Finnish band called Lordi performed their "Hard Rock Hallelujah" song…
Check that epic wing-cape!
Also: never ignore what the media say. There are people who are deadly serious about this competition and have the necessary knowledge to foresee who the most probable winners will be – take advantage of that when deciding on how to bet on Eurovision 2017!

(British commentator,Graham Norton, reacts to Ukraine voting for Russia
Source: http://www.buzzfeed.com/scottybryan/can-we-please-watch-the-commercials)
Eurovision voting. Hello, neighbours!
Some people think that Eurovision voting is 90% political and 10% objective, but it's not as simple as that. There is a theory that says that people vote for cultural similarities, not border boundaries. For the last couple of years, the Eurovision winners have been less country specific and more universal, so that everyone watching could actually relate to what they represented. Political voting is a stronger factor in the semi-finals. If a Balkan country gets in between Scandinavian countries, there is no way for them to get 'neighbour points' from them. Think about the most recent successful contestants: Zelmerlow, Conchita, de Forest, Ell & Nikki, Loreen… there is nothing distinctive about them and yet they got a massive amount of points from countries that weren't exactly from the neighbourhood.
Top 7 things to consider when betting on Eurovision
We collected some of the most important tips and things to consider when betting on Eurovision and put it in a nice infographic. Feel free to use it when selecting your bets and if you like it, please share with friends that you know would like to add some excitement to the Eurovision Song Contest this year by placing a bet on the winner.
Eurovision 2017 odds
Let's talk about the actual Eurovision 2017 odds. Bookmakers' predictions are usually pretty close so it's always a good idea to check their betting offers. It is advisable to keep an eye on Eurovision odds long before all the entries are known. Experts don't need songs to read the atmosphere and trends. Once the order of the events – two semi-finals and the grand final – are announced you might notice further changes in Eurovision odds for countries. A small tip for you: those who perform last usually get more points and proceed from the semi-finals.
Eurovision 2017 official running order
One of the things that is important to know is the running order of both semi-finals, as well as the finals. This can be helpful when deciding who has better odds advancing to the Grand Final concert! The organisers have decided themselves, how to locate the songs so that they have the most exposure and are the most noticeable: you can see that there are practically no ballads next to each other and neither are there two really upbeat rock songs. This also helps to make the show interesting and this is how the organisers are fighting for a higher viewership.
We are presenting the official order of performances of the Eurovision 2017 for you to know, how to bet on ESC2017.
See the full running order here
Where to bet on Eurovision 2017
There are many vendors that will offer you bets on Eurovision 2017, but it is always a good idea to do some research and compare odds and maybe special deals for the event. Every year you can count on Unibet and William Hill to give you some diversity of betting markets. Betfair is also a good choice thanks to their attractive prices.
Eurovision 2017 – will the United Kingdom ever win again?
The United Kingdom has won five times in the history of Eurovision. But the last time was back in 1997. How about stepping up your game Britain?
Unfortunately, it doesn't look good this year either. The odds for the UK to win Eurovision are, well… let's say it is far from the top 10. The United Kingdom would have to send an amazing artist that worked for both audience and jury with a song that would shine brighter than Russia's, Sweden's, Australia's and Germany's to name just a few.
Eye-catching bets on Eurovision 2017
Not only can you bet on the winner of Eurovision 2017, but you can also try your luck at predicting other things such as the Top 5, Null Points or even… The UK to receive Null Points. These are usually offered by bookmakers such as bwin, betfair and Unibet. Want more interesting and leftfield bets on Eurovision 2017? PaddyPower is your man bookie. Generally speaking, Paddy Power's sense of humour leads to fun bets on many sports and entertainment events. Why not bet on the most ridiculous performance?
Eurovision's most ridiculous performances
Speaking of ridiculous performances, it's always a good laugh to remember some of the most absurd ideas that have appeared at Eurovision. We wish we could have access to all competitions from the beginning, but let's remind ourselves of some of the craziest. We already mentioned the Finnish winner of 2006, but they were not the only crazy ones. For some reason, it seems that 2006 and 2007 were the most prolific years…
Austria 2003
Some things should just stay in your head…
Lithuania 2006
Guess you were wrong…
Croatia 2006
Africa Paprika Oi Da Da Dai. Ok.
Denmark 2007
It's like a royal parade, but more…
Ukraine 2007
What has been seen cannot be unseen.
The United Kingdom 2007
Just… Just leave the stage already. Please…
Moldavia 2010
This is when the Epic Sax Guy goes viral.
Armenia 2011Boom Boom Chaka Chaka! Whoo!
Boom Boom Chaka Chaka! Whoo!
Finland 2013
It's a cockeyed bride – what's not to like?
And a special award for Eurovision top cameraman goes to this guy:
Does it even matter? Which Eurovision contestant has actually made it apart from ABBA and Celine Dion?
Globally? Not as many as you'd think. Let's cast aside the artists that made it in their own countries after appearing at, or winning, Eurovision. Let's talk about real stars that could compare to Celine Dion or ABBA. Or at least somewhere near that level of success.
Bet who will be the new Celine Dion!
Domenico Modugno – Eurovision 1958
Domenico Modugno is a name you may think you have heard somewhere. Well, he was the one who sang "Nel blu dipinto di blu" aka "Volare", a song performed and covered by so many artists it's hard to count. You cannot say it's not a big shot – this song is well known even today, after more than 50 years!
United Kingdom – Eurovision 1976
"Save Your Kisses For Me" is probably one of those songs you had no idea came from the Eurovision Song Contest. Brotherhood of Man made it a number one hit in the UK and around the world.
Al Bano and Romina Power – Eurovision 1976 & 1985
They've never won but are a very successful couple who have produced famous songs such as "Felicita", "Magic, oh Magic", "Atto d'amore" and many more.
Johnny Logan – Eurovision 1980 & 1987
The one and only Mr Eurovision – he won twice (!) and composed the winning song in 1992. Mostly active in the UK and Ireland, he is still remembered and recognised by many across Europe.
Lordi – Eurovision 2006
Yup, they made it. Even though they had been known since 2002, it is Eurovision 2006 that made them come to the world's notice. There were some that followed their lead after (like the Czech Republic's entry in 2007), but Lordi still remains the only hard rock hallelujah band that won the competition. After that, they even got legendary group Kiss's manager to work for them.
Lena – Eurovision 2010
Germany's Lena sang "Satellite" with such beauty that she stole everybody's hearts. Her song got to number one in at least six countries, making her one of the greatest Eurovision performers of all time.
Loreen – Eurovision 2012
Her "Euphoria" was, and still is, well known even overseas. After winning Eurovision in 2012 the Swedish singer appeared on many music TV Shows in Europe. Loreen is still producing albums so her career might yet flourish into something greater.
---
So, does Eurovision make long lasting careers? It is always a long shot – a "what if", a "why not?", a "can't hurt to try" competition. But you never know – maybe the Eurovision 2017 entry you're listening to right now is going to be the next top hit that will help the artist make the leap into the world of pop music!