Matchbook Bonus Code
New customers who create an account, deposit funds and use the Matchbook Bonus Code MAXSPORT will be eligible for the Matchbook Welcome Offer. Start your journey towards £500 cash back by earning £5 in commission on your bets, and getting £5 in cash back into your account. Check the Matchbook review and full terms and conditions of the offer  (18+ | T&Cs Apply).
Matchbook Bonus Code Terms
The Matchbook Bonus Code is MAXSPORT. To fully claim the sign-up offer there are some bonus terms and conditions that apply.
| Welcome promotion | Description |
| --- | --- |
| Bonus Type | Cash Back |
| Bonus Offer | £500 |
| Matchbook Bonus Code | MAXSPORT |
| Rollover odds requirements | All odds apply |
| Wager requirements | Dependent on commission |
| Minimum deposit | None |
| Matchbook Promotion | See T&Cs Above |
The £500 cash back offer is available in your first 5 weeks of betting. The offer is dependent on the commission that you accrue, so the welcome offer applies to back or lay bets on any number of markets, at any available odds. Please be aware, before using our promo code, that to claim the full £500 cash back you would need to place bets of around £50,000 which is pretty steep in comparison to other bookmaker offers and their wagering requirements (See T&Cs Above).
Who are Matchbook?
Matchbook present themselves as a betting exchange community which means the company is an exchange bookmaker. The concept of bringing together backers and layers was first brought to the market in any significant way by Betfair in 2000.
Matchbook are a relatively new entrant into this sector and aims to profit from brokering bets between gamblers who have an opinion that something will happen or that something will not happen. The company has set out to create an innovative betting experience and is always striving to improve the product. In 2011 Matchbook were purchased by investors with a background in British sports betting. The new operators have put special emphasis on soccer Asian handicap betting.
One of the most important elements of any exchange is liquidity and this is where Matchbook are a long way behind Betfair. They are trying to get a foot in a market dominated by one company and are offering a commission rate of 1,5% to attract customers. However, the standard commission rate will be only 0,75% if you have been posting an offer, that another user then matches.
Markets are being added slowly when liquidity has reached a workable level and customers can get their bets matched. The ethos of the exchange is low-margin, high volume betting with a focus on building liquidity across a limited number of sports and leagues.
Matchbook Promotions
Matchbook feature promotions for exchange betting and offers specific to their casino. You should type the Matchbook Bonus Code MAXSPORT into the registration form to receive the following bonuses:
£500 Cash Back Welcome Offer
The welcome bonus for the Matchbook exchange is subject to the following terms and conditions:
Offer is applicable for customers who click on the promotional link on this site
The exchange bonus code MAXSPORT must be typed into the sign-up form
The offer applies to customers who place back or lay bets at any available odds
The offer applies to both winning and losing bets
Bonus funds will be paid within 48 hours
The maximum bonus is £500
Getting Started with Matchbook
The Matchbook homepage always displays new account offers and bonuses. Banners with the offers can be hidden to show a page on which existing customers must enter a username and a password to access betting markets and make wagers. Besides the login option, there is also a registration button allowing new customers to sign up.
There is a link for password retrieval to be used when a customer has forgotten their password. The Matchbook homepage displays a sports menu and an empty betting slip. Smart-view is a feature that only displays markets being viewed in the betslip.
A red box with the words 'JOIN/REGISTER' in a white font must be clicked in order to open an account. This takes new customers to a page in which they can create a personal account.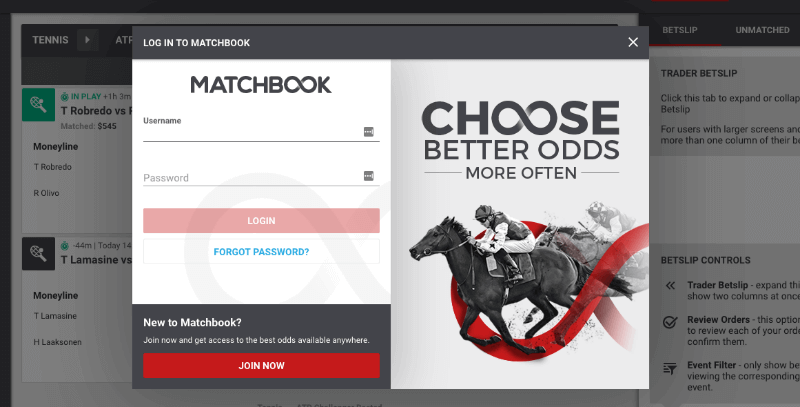 If you click on JOIN NOW, you will be transferred to the registration form that looks like the one below. As it can be noticed, the registration procedure consists of four steps which do not differ much from any other sign up protocol. Basic information is required and a username and password plus a security question.
New customers can enter a Forum Screen name and Bonus Code but these entries are optional. Users are confirming that they are aged 18 and agree to the Terms and Conditions when clicking on a box containing the words 'BET NOW'. If you are still unsure how to bet, check out our betting guide and read about the most common mistakes in sports betting.
Placing a Bet at Matchbook
Making bets on an exchange is different from betting with a sportsbook as it involves being the bookmaker or being the bettor. This form of betting is based on peer-to-peer betting which in effect means betting between the users.
The operator's role is to broker these transactions for which they earn a commission. Punters place a back bet when they think something will happen or lay or take a bet when they think something will not happen. Matchbook are a relatively new breed of bookmaker that facilitates these bets by providing the mechanism and support services.
The basic procedure for betting with Matchbook is fundamental as that for conventional sportsbooks, with the added feature of the lay option. The sport, league and event are selected and the back and lay odds are displayed. The back odds will always be slightly smaller than the lay odds with Matchbook but that is the case with all exchanges. One difference with an exchange is that a range of prices is displayed and customers choose at which price they wish to back or lay.
Once a price is selected users are prompted to specify a stake and put that request into the market. The Matchbook back office will find a customer or number of customers who are happy to accept a back or lay bet. When two opposing parties are brought together a bet is said to be matched.
Customers do not have to take the displayed odds but can request their own odds. Such bets may or not be matched and some can be partly matched. Matchbook displays unmatched and matched bets and at some stage, an unmatched bet can be matched when two opinions meet at an agreeable price.
Live betting allows traders to close out a position to guarantee a profit or minimise a loss. Matchbook update odds as an event progresses and customers who are right can take their winnings. The bookie also updates prices until the end of the events, which allows customers to take advantage of price fluctuations.
The basic theory of exchange betting is the more right you are, the greater are potential winnings. Similarly, the more wrong you are, the greater are potential losses. Matchbook create the infrastructure to make this possible and take a commission to cover costs and make a profit.
Matchbook Exchange
Matchbook are an exchange bookmaker (similar to betfair and betdaq) whereby backers and layers have bets matched at a price that is mutually agreeable. Placing a bet is the same as for conventional sportsbooks. Customers click on their selection, take the best odds available and enter a stake before submitting the bet.
Bettors can bet on something to happen by placing a back bet or bet on something to not happen by placing a lay bet. Backers and layers come together at a price that is acceptable to both parties. Customers can only bet with funds that are in their account and that also includes commission.
Matchbook charge a small 1,5% commission when you place a bet. This rate is applied to the win amount on winning bets. For losing bets, commissions are based on the losing stake or the potential liability, whichever is smaller.
Matchbook provide an extensive range of betting opportunities while the sporting event is taking place. The market does not close once the event begins and backers and layers can trade right up to the last part of the action, most often for soccer, tennis, and golf.
A time delay of between 1 and 10 seconds gives everyone an equal chance of having bets matched. Unmatched bets are cancelled if there is a shift in the odds. When the review was undertaken the website featured live betting opportunities for soccer, tennis, and cricket.
Matchbook Sports and Markets
The Matchbook homepage displays the most popular markets in the main area of the screen. A vertical navigation bar on the left-hand side of the page shows a list of sports on which customers can place back or lay bets. There are 15 options on the menu including 13 sports and current events and politics.
These sports are not arranged alphabetically but possibly by the number of markets on offer which makes soccer the most popular sport for betting with this website's customers. The sports that have the most betting markets are as follows:
Soccer
Matchbook offer trading opportunities on leagues in 13 countries in addition to odds for the Europa League, Champions League and Euro. The majority of leagues are European but soccer in Argentina is also covered. England appears at the top of the football menu as the Premier League is the most popular in the world for betting. There are also odds for matches in the Championship, League One and League Two but no minor leagues are featured.
The site only offers match odds but no outright betting for teams to win a league. There are also odds for matches in the Championship, League One and League Two but no minor leagues are featured. The site only offers match odds but no outright betting for teams to win a league.
The screen displays the upcoming matches in the Premier League, showing the date of the fixture but not the starting time. Home, away, draw back and lay odds are displayed and there is a link to view all markets. The back odds are displayed in blue and the lay odds are displayed in pink and the odds boxes also show the liquidity in Euro for each market.
An icon shows whether a match will have live betting. There is also an icon to add a match to a short list of selected events.
The back odds are displayed in blue and the lay odds are displayed in pink and the odds boxes also show the liquidity in Euro for each market. An icon shows whether a match will have live betting. There is also an icon to add a match to a short list of selected events.
Clicking View Full Markets, back and lay odds and the associated liquidity is displayed in the following categories: match odds, handicap, total, Asian handicap and Asian total. The range of markets is limited and compares unfavourably with Betfair where customers can trade on over 100 soccer markets, pre-match and in-running.
There is a uniformity with regards the markets offered for each soccer match. Traders who are familiar with other exchanges will be disappointed with the Matchbook offer even if the odds are in effect better due to the smaller commission. Matches can be selected by date.
Baseball
The baseball offer only includes markets for Major League Baseball (MLB) which is the most popular league in the sport and brings together franchises based in North America. The format for baseball matches is the same as for soccer fixtures. The main baseball page shows the upcoming fixtures and the back and lay odds for the money line.
This market represents the side to win the match including extra innings when a match is tied during regular play.
In selecting View Full Markets customers to move to a page that displays a selection of back and lay odds and the liquidities for the money line, handicap, and totals. The baseball product only includes match odds so Matchbook customers cannot trade on any outright markets for the sport.
Matches can be selected by date. An icon shows whether a match will have live betting and there is also an icon to add a match to a short list of selected events.
Tennis
The tennis option includes match markets for the current ATP and WTA tournaments and outright prices for upcoming major tournaments which allow customers to back or lay the winner.
The tennis match format is the same as for soccer and baseball. Back or lay odds for the match winner and the liquidity in that market at the time are shown.
In selecting View Full Markets users are taken to a secondary screen which shows a selection of back and lay odds and their liquidity for the money line, handicap, and total.
Matches can be selected by date. An icon shows whether a match will have live betting and there is also an icon to add a match to a short list of selected matches.
Matchbook Mobile
Matchbook apps are available for the iPhone, iPad and Android. For regulatory reasons, you can only use the Matchbook app in certain regions.
Location Services need to be available on a device in order to use the app. Once this has been activated the application must be restarted.
The Matchbook app includes all the features of the desktop version and it has been designed for ease of use while on the move. The latest version of the app features integration with BM Casino, access to a mobile forum and transaction reports.
The app is compatible with touch technologies and fifth generation phones. You can also use the Matchbook Bonus Code on your mobile device.
Only just recently, Matchbook surprised its customers with a release of the third version of its mobile app for iPhone and Android. It is not an update but a whole new product including a major redesign to improve user experience and navigation across the app.
Additionally, the product aims for a better performance in terms of loading different markets and doing so much faster.
Matchbook Deposits and Withdrawals
The funding section on the Matchbook website refers to making deposits and withdrawals. Transactions can be carried out using the major debit and credit cards and funds can be deposited using bank wire transfers. It takes 3-5 business days to receive a wire transfer. Within the funding section the following issues are covered:
How to fund an account
Direct deposits and withdrawals using a debit or credit card
Withdrawals directly to a bank account
The cost of taking out funds
Foreign exchange fees
Matchbook can, at its discretion, impose fees if the commission on betting activity is less than the cost of processing transactions. Matchbook does not provide foreign exchange services and transactions are processed in the currency of the account.
Basic Facts about Matchbook
Company Name: Matchbook trading as Triplebet Ltd.
Postal Address: Inchalla, Le Val, Alderney, GY9 3UL.
Founded: 2004 and purchased by UK investors in 2011
Model: Sports betting exchange and casino
Licenses: UK Gambling Commission and Alderney Gambling Control Commission
Odds Format: European, UK, US, Hong Kong, Indo and Malay
Languages: English and Asian
Currency: British Pounds and Asian currencies
Restricted Countries: US players not accepted
Markets: UK and Asian.
Matchbook Customer Support
Email: accounts@matchbook.com
Live Chat: 9:00am to 3:00am GMT
Telephone support: UK 0044 203 642 6867, Ireland Europe 00353 21 242 8626
Post: Triplebet Limited, Inchalla, Le Val, Alderney, GY9 3UL.
Twitter: @TeamMatchBook
No fax support
Response times: Live Chat: 13 seconds, Phone: 15 seconds, Email: 4 hours.
Frequently Asked Questions: General FAQs
Lost password procedure: by email
Links to Gamcare and 18+ policy
Conclusion
Matchbook are  an exchange bookmaker that imitates Betfair who monopolise the market. The range of sports, leagues and betting options is limited but might grow in time if there are enough customers to create liquidity.
Technically the site works well and the betting features are easy to use and intuitive. The casino includes the most popular games but again the range is limited.
The bonuses, commissions and affiliate program are fine but not exceptional. Matchbook differentiate itself from Betfair by quoting odds to three decimal places so traders can bet to smaller margins in degrees of one thousandth of a point rather than one hundredth on Betfair.
Matchbook also take a smaller commission but it is debatable whether this feature is enough to attract customers from Betfair.
Finally, we want to present you some of the most amusing betting ads before you start your betting experience with the Matchbook Bonus Code 2018 MAXSPORT.