New customers who open a Matchbook account, deposit funds, place bets with the Matchbook Bonus Code,  will be eligible for the Matchbook Sign Up offer. As a new customer, you can receive a welcome bonus for sports when you sign up. Users only pay commission on profit made from markets, users do not pay commission on losing bets (T&Cs Apply).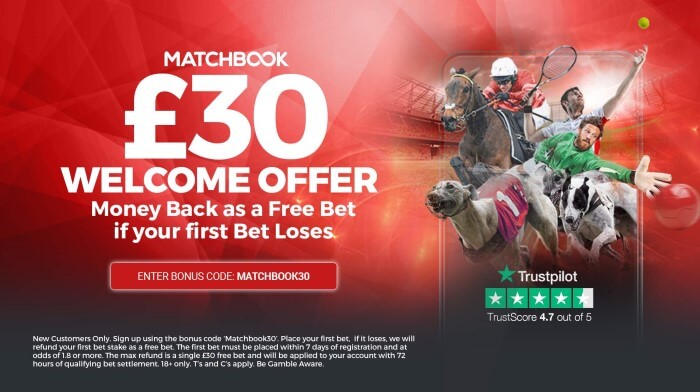 T&C: The user must enter Bonus Code 'MATCHBOOK30' during registration. Minimum Odds of 1.8 for first bet to qualify. Losses will be refunded on first bet only, as a free bet - up to £30. Users cannot back and lay the same selection on the first bet.. Only open to users who deposit via debit card. New Customers Only. 18+. Be Gamble Aware.
Matchbook Bonus Codes Aug 2022
The Matchbook Bonus Code for 2022 is available by clicking the link in the table. This is the sign up code for new customers, use it when you go through Matchbook login to get the welcome bonus.
| Matchbook Sports Bonus Type | Matchbook Bonus Details |
| --- | --- |
| Matchbook Sign up Offer: | Money back as a free bet if your First bet Loses - Up to £30 |
| Minimum Odds: | 1.8 |
| Maximum Bonus: | £30 free bet |
| Free Bed Validity: | Seven days |
| Matchbook Bonus Code: | |
T&C: The user must enter Bonus Code 'MATCHBOOK30' during registration. Minimum Odds of 1.8 for first bet to qualify. Losses will be refunded on first bet only, as a free bet - up to £30. Users cannot back and lay the same selection on the first bet.. Only open to users who deposit via debit card. New Customers Only. 18+. Be Gamble Aware.
How to register with the Matchbook Bonus Code?
The Matchbook homepage always shows new account offers and bonuses. If you are a new customer looking to sign up with the Matchbook bonus code then follow these steps:
Click the Matchbook bonus code links
Go to Matchbook
Choose to "Join" to open an account
Enter your details & Bonus Code
Opt-in for the bonus
Start betting
Users must confirm that they are aged 18 and agree to the Terms and Conditions before signing up.
If you are new to betting and are still unsure on how to bet then check out our betting guide or read about the most common mistakes in sports betting.
Placing a bet at Matchbook UK
Making bets on an exchange is different from betting with a sportsbook as it involves being the bookmaker or being the bettor. This form of betting is based on peer-to-peer betting which in effect means betting between the users.
The operator's role is to broker these transactions for which they earn a commission. Punters place a back bet when they think something will happen or lay or take a bet when they think something will not happen.
The basic procedure for betting with Matchbook UK is fundamental as that for conventional sportsbooks, with the added feature of the lay option. The sport, league and event are selected and the back and lay odds are displayed. The back odds will always be slightly smaller than the lay odds with Matchbook UK but that is the case with all exchanges. One difference with Matchbook exchange is that a range of prices is displayed and customers choose at which price they wish to back or lay.
Once a price is selected users are prompted to specify a stake and put that request into the market. The Matchbook back office will find a customer or number of customers who are happy to accept a back or lay bet. When two opposing parties are brought together a bet is said to be matched.
Customers do not have to take the displayed odds but can request their own odds. Such bets may or not be matched and some can be partly matched. Matchbook displays unmatched and matched bets and at some stage, an unmatched bet can be matched when two opinions meet at an agreeable price.
Other Matchbook promotions
Matchbook features other promotions for Matchbook exchange betting and offers specific to their casino. It is always worth checking out the promotions page before you go through Matchbook login.
Yet, if it is the new customer sports offer you are looking for then use the Matchbook sign up offer links in this Matchbook review to receive Matchbook bonus.
Who is Matchbook UK?
Matchbook UK presents themselves as a betting exchange community which means the company is an exchange bookmaker. The concept of bringing together backers and layers was first brought to the market in any significant way by Betfair in 2000.
Matchbook UK is a relatively new entrant into this sector and aims to profit from brokering bets between gamblers who have an opinion that something will happen or that something will not happen. The company has set out to create an innovative betting experience and is always striving to improve the product. In 2011 Matchbook was purchased by investors with a background in British sports betting. The new operators have put special emphasis on soccer Asian handicap betting.
One of the most important elements of any exchange is liquidity and this is where Matchbook is a long way behind Betfair. They are trying to get a foot in a market dominated by one company and are offering a commission rate of 2% to attract customers.
Markets are being added slowly when liquidity has reached a workable level and customers can get their bets matched. The ethos of the exchange is low-margin, high volume betting with a focus on building liquidity across a limited number of sports and leagues.
Matchbook Exchange
Matchbook UK is an exchange bookmaker (similar to Betfair) whereby backers and layers have bets matched at a price that is mutually agreeable. Placing a bet is the same as for conventional sportsbooks. Customers click on their selection, take the best odds available and enter a stake before submitting the bet.
Bettors can bet on something to happen by placing a back bet or bet on something to not happen by placing a lay bet. Backers and layers come together at a price that is acceptable to both parties. Customers can only bet with funds that are in their account and that also includes commission.
Matchbook UK charges a small 2% commission when you place a bet. This rate is applied to the win amount on winning bets. For losing bets, commissions are based on the losing stake or the potential liability, whichever is smaller.
The exchange provides an extensive range of betting opportunities while the sporting event is taking place. The market does not close once the event begins and backers and layers can trade right up to the last part of the action, most often for soccer, tennis, and golf.
A time delay of between 1 and 10 seconds gives everyone an equal chance of having bets matched. Unmatched bets are cancelled if there is a shift in the odds. When this Matchbook review was undertaken the website featured live betting opportunities for soccer, tennis, and cricket.
Matchbook Sports and Markets
The Matchbook homepage displays the most popular markets in the main area of the screen. A vertical navigation bar on the left-hand side of the page shows a list of sports on which customers can place back or lay bets. There are 15 options on the menu including 13 sports and current events and politics.
Matchbook Football Tips
Our Matchbook Champions League and Premier League tips and odds come from the best tipsters at Betting Expert. To make sure you have the most up to date odds, check the Matchbook website.
Is there Matchbook mobile app?
Matchbook apps are available for iPhone, iPad and Android. For regulatory reasons, you can only use the Matchbook app in certain regions. Location Services need to be available on a device in order to use the app. Once this has been activated the application must be restarted.
The Matchbook app includes all the features of the desktop version and it has been designed for ease of use while on the move. The latest version of the app features integration with BM Casino, access to a mobile forum and transaction reports.
The app is compatible with touch technologies and fifth generation phones. You can also use the Matchbook Bonus Code on your mobile device.
Only just recently, Matchbook UK surprised its customers with a release of the third version of its mobile app for iPhone and Android. It is not an update but a whole new product including a major redesign to improve user experience and navigation across the app.
Additionally, the product aims for a better performance in terms of loading different markets and doing so much faster.
Matchbook Bonus Code: Deposits and Withdrawals
The funding section on the Matchbook website refers to making deposits and withdrawals. Transactions can be carried out using the major debit cards and funds can be deposited using bank wire transfers. It takes 3-5 business days to receive a wire transfer. Within the funding section the following issues are covered:
How to fund an account
Direct deposits and withdrawals using a debit card
Withdrawals directly to a bank account
The cost of taking out funds
Foreign exchange fees
Matchbook UK can, at its discretion, impose fees if the commission on Matchbook betting activity is less than the cost of processing transactions. Matchbook UK does not provide foreign exchange services and transactions are processed in the currency of the account.
If you want to see what other brands may offer, we recommend checking Ladbrokes and Quinnbet reviews.
Basic Facts about Matchbook UK
Company Name: Matchbook trading as Triplebet Ltd.
Postal Address: Inchalla, Le Val, Alderney, GY9 3UL.
Founded: 2004 and purchased by UK investors in 2011
Model: Sports betting exchange and casino
Licenses: UK Gambling Commission and Alderney Gambling Control Commission
Odds Format: European, UK, US, Hong Kong, Indo and Malay
Languages: English and Asian
Currency: British Pounds and Asian currencies
Restricted Countries: US players not accepted
Markets: UK and Asian.
Matchbook Customer Support
Email: [email protected]
Live Chat: 9:00am to 3:00am GMT
Telephone support: UK 0044 203 642 6867, Ireland Europe 00353 21 242 8626
Post: Triplebet Limited, Inchalla, Le Val, Alderney, GY9 3UL.
Twitter: @TeamMatchBook
No fax support
Response times: Live Chat: 13 seconds, Phone: 15 seconds, Email: 4 hours.
Frequently Asked Questions: General FAQs
Lost password procedure: by email
Links to Gamcare and 18+ policy
Matchbook Bonus Code: Review
Matchbook UK is an exchange bookmaker that has similar features to Betfair who monopolise the market. The range of sports, leagues and betting options is limited but might grow in time if there are enough customers to create liquidity.
The bonuses, commissions and affiliate program are fine but not exceptional. Matchbook UK differentiates itself from Betfair by quoting odds to three decimal places so traders can bet to smaller margins in degrees of one-thousandth of a point rather than one hundredth on Betfair.
Matchbook UK also takes a smaller commission but it is debatable whether this feature is enough to attract customers from Betfair. Finally, we want to present you some of the most amusing betting ads before you start your betting experience with the Matchbook Bonus Code 2022.
*Please note – Our star ratings are based on our personal opinion of the bookmakers we work with. We also take customer feedback into account in our rankings.
---
Matchbook FAQ
Before spending time reaching out to Matchbook's customer service, have a look at the below frequently asked questions. Maybe here you will find the answers that you are looking for.
Is there a Matchbook bonus code currently available?
Yes, to find the Matchbook bonus code and receive the Matchbook sign up offer, click the link above.
Where do I enter the Matchbook bonus code?
You can enter the Matchbook bonus code in the bonus code field during registration. So, all you have to do to get the welcome bonus, is to click any of the buttons above.
Can I get the welcome bonus with the Matchbook App?
Yes! If you sign up through the Matchbook App and match the requirements, you will receive the bonus.
I can't seem to obtain the bonus, what should I do?
Remember to check the qualifying requirements and the full terms and conditions, if everything looks good, contact their live chat.
What is the Matchbook Commission?
Matchbook only takes a 2% commission (UK) on winning bets and will not take a commission on losing bets, this is why we recommend the sportsbook. (excluding any promotions)
Matchbook review
On-going Promotions

Mobile App

Betting Exchange

Welcome Offer
Summary
Matchbook is an exchange bookmaker that resembles Betfair in many features. The Matchbook Betting Exchange is unique and offers 2% Commission on all sports. Technically the site works well and the betting features are easy to use and intuitive. The casino includes the most popular games but again the range is limited.