Commercial Content | 18+ | T&Cs Apply
Royal Ascot Betting
Taking place in the middle of June each year, Royal Ascot is the pinnacle meeting on the English flat horse racing calendar and run at the famous Ascot racecourse in Berkshire. The meeting is now spread over five days (Tuesday-Saturday) and is a prestigious affair with members of the Royal family – including the Queen – attending each year. The fixture always attracts a lot of interest and Royal Ascot betting opportunities are always well covered throughout the world.
The 2019 event will begin with the Group One Queen Anne Stakes on Tuesday 18th June and close with the Diamond Jubilee Stakes – one of the world's great international sprint races – on Saturday 22nd June.
With the meeting being so popular, the Royal Ascot betting turnover during the five days is always one of the highest for the bookmakers each year, so it's no surprise that the layers will attract customers with betting offers, bonuses, promotional incentives, plus free Royal Ascot tips.
bet365, GentingBet and Black Type are three online bookies who have offered some really enticing promotions, odds and markets recently so it could be a good idea for punters to take a look at those three in the run-up to this world famous meeting to see what is on offer.
Royal Ascot Betting Offers
While we wait for Royal Ascot 2020 Offers to become available, read the full operator bonus code reviews:

Betting Site
New Customer Offer
Key Features
Go To Site & Sign Up
Royal Ascot Betting History
Royal Ascot is steeped in history, first staged back in 1711. With over £7 million now offered in prize money over five glorious days of top-class racing, it's no surprise that the best horses from around the globe make the trip to the Berkshire track.
While the bulk of the runners will be from the leading English stables, we can also expect an army of top-class horses each year from the Irish yards, while over the last decade there has been an added International feel to the meeting with top American, Australian and French horses coming over to run.
With almost 80 winners trained at Royal Ascot over the years the Sir Michael Stoute stable is the most successful yard in the history of the meeting. If they keep going it won't be long before they are closing in on a remarkable 100 winners at Royal Ascot. But keep an eye out for the new Phoenix Thoroughbreds stable who had some real success at the 2018 meeting.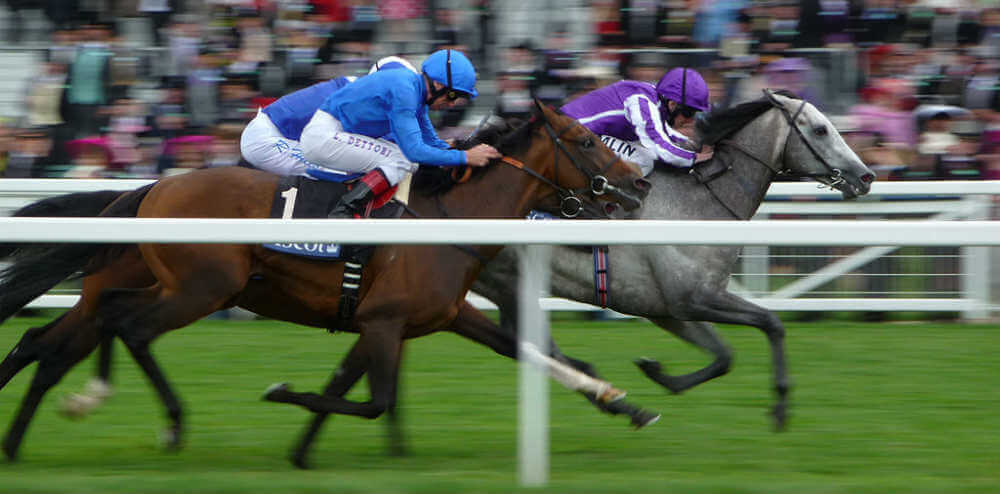 Royal Ascot Betting Guide
During the Royal Ascot meeting, betting has always played a huge part. There are so many new bookmakers popping up each year to give customers more choice, plus the introduction of the betting exchanges add another betting angle. Accordingly, like you would if you were buying a car, make sure you look around for the best bookmaker offers.
Why take 10/1 on a horse running at Royal Ascot when you can get 12/1 on the same horse with another bookmaker? If you placed £10 on that bet you'd win an extra £20 by just shopping around. Also with the betting exchanges, you even have the option to lay horses to lose – just like the bookmakers do!
If you are a new customer with these bookmakers, then the majority will supply you with free betting offers to encourage you to sign-up. Each one is slightly different, but they will offer you 2019 Royal Ascot offers if you join them.
These online sites obviously operate all through the year and some, such as bet365, are well known for their attractive welcome promotions. But with big events such as Royal Ascot it is always a good time to see what special bonuses are on offer for new customer account holders.
For example, several bookmakers might ask you to deposit between £10 and £30 with them and as a 'thank you', some will match that deposit or give you a further £10-£30 free on them!
It goes without saying – always read the T&Cs with each offer but there are so many out there that if you hover-up the sign-up bookmaker bonuses (like the one just mentioned) then you can pocket in excess of £1,000, and all courtesy of the bookies!
Odds comparison betting sites allow you to see what the best Royal Ascot odds are across all the horses by bookmaker. So, again, just like you'd shop around for the best car insurance or mortgage, our odds comparison service will tell you which bookmakers are giving the best prizes on each 2019 Royal Ascot horse.
As well as the sign-up offers, most bookmakers will also attract punters by offering enhanced terms for their existing customers. So come June each year, be sure to shop around to find the best Royal Ascot betting offers on the market. GentingBet and Black Type are sure to have something special ready for Royal Ascot 2019 so shop around for the best welcome offers.
Top odds comparison sites are a good place to go to as they will collate all the main Royal Ascot bookmaker offers so you can see them in one place.
In the past, some bookmakers refunded any bets (up to a certain stake) if your horse finished second. Others might do 'happy hour' where they boost up the Royal Ascot odds on certain runners.
As there are several handicap races that will have more than 16 runners, the set industry rules will pay the each-way bets down to fourth place. Therefore, if you do back a Royal Ascot horse each-way in the big-field handicaps over the meeting, then your selection must finish first, second, third or fourth.
It's not uncommon for Royal Ascot betting offers to pay out on the first five home in races like the Royal Hunt Cup, Wokingham or the Britannia Stakes. While it's known that some have even extended this to the top six or even seven finishers. Check with the individual bookmakers on each race, as there could be some really good each way options for the 2019 Royal Ascot meeting.
Leading odds comparison sites can help you find the best 2019 Royal Ascot betting offers. They also have a betting calculator that will show you how much you could win before the result.
This means, should your horse be lucky enough to win then you'll know exactly how much you'll going to win.
Best Odds Guaranteed
This is another very popular bookmaker Royal Ascot offer that most of the leading operators now have in place. If you take a price of a horse before the race and it goes on to win at a bigger price these 'Best Odds Guaranteed' bookmakers will still pay you out at the SP (starting price) odds.
For example, if you placed a bet pre-race for £10 on a horse that was 10/1, but that horse went onto win at 14/1 – a bookmaker offering a best odds guaranteed special would calculate your returns at 14/1.
Not bad, another win-win situation for punters as the bookmakers use this offer to attract business.
Different Royal Ascot Betting Types
Royal Ascot 'Win Only Bets'
Well, this does exactly what it says in the title. You are simply backing a horse at Royal Ascot in any of the 30 races to win. Second, third, fourth is no good – it has to win. For a £10 win on 10/1 Royal Ascot winner will return £100 (plus your £10 stake) = £110.00
Royal Ascot ' Each-Way Bets'
Each-way bets consist of two bets, so your stakes are always doubled. If you want to place a £10 e/w bet on a horse, in a race at Royal Ascot, the total stake is £20. One £10 will be placed on the horse to win and the other will go on your horse being placed.
The normal place rules are 1st, 2nd, 3rd, but should your horse fill one of these places the odds taken are quartered. So, a 50/1 placed horse becomes 12.5/1, meaning you'll have a £10 bet on the horse being placed in the race at 12.5/1. Obviously, if the horse wins you will be paid out twice on each-way bets – on the win and the place.
Place terms are changed depending on the number of runners in the race. If there are 2-7 runners then the each-way place payout is for 1st and 2nd. Races with 8+ runners have the each-way place payout for 1st, 2nd and 3rd. Though, if there are 16+ runners and its handicap race the each-way place payout is for 1st, 2nd, 3rd and 4th.
Royal Ascot 'Forecast and Tri-cast Bets'
Some might say that it's hard enough to get a winner at Royal Ascot, let alone the second and third in the contests. However, a lot of punters like the forecast and tri-cast bets as the returns are a lot higher. Of course, it's not easy and a bit more of a 'lottery-style' betting option.
If you can successfully predict the 1st and 2nd, or the 1st, 2nd and 3rd, then you'll be well rewarded. The 2018 Ascot Gold Cup result saw Frankie Dettori win the race on the favourite Stradivarius at 7/4. Vaziribad at 9/2 was second, while 14/1 shot Torcedor managed to land third.
Predicting the first two or three horses to come home is difficult but with odds like this, it can be very rewarding.
Some punters like to perm up several runners in case you get your horses in the wrong order. For example, if you pick out 4 horses you could decide to place a combination forecast. That means any of your 4 horses can fill the first two places. However, as there are 12 different permutations this bet will cost you 12 times more. A £1 combination Royal Ascot race forecast will cost you £12.
You might prefer to keep it simpler by just picking two horses in a reverse forecast. This bet will cost you X2 your stake and means the horses selected will need to finish first or second in ANY order.
Royal Ascot Placepot Betting
A placepot is based on finding a horse that will be placed in the first six races at a meeting. It's another popular Royal Ascot betting type. You need to select a horse you think will hit the frame in all six daily races.
1-4 runners – win only
5-7 runners – top 2 places
8-15 runners – top 3 places
16+ runners (handicap races) – top 4 places
Punters like to perm up selections in each race too. It gives them more than one horse in each race, increasing the chances of getting through each of the six legs. Don't forget you need to get through ALL of the six races with a horse placed in each.
The tote runs this bet. It's like the lottery. The returns (less commission) is based on how many winning tickets are left at the end. The fewer tickets left, the more the dividend will pay – it's as simple as that.
The Placepot is a fun way to potentially give punters an interest in most races through each day. With returns sometimes in the hundreds and thousands (for just a £1 stake), it's a popular bet. If you want to perm up selections, you simply multiply each leg by the number of runners you've picked.
For example, if you want to pick 2 horses in each of the 6 races it will be as follows 2x2x2x2x2x2 = 64 bets (a £1 bet would cost you £64, while a 10p bet would cost you £6.40).
You can read up about other horse betting types including Trixie bets, Goliath bets, Lucky 15s and Heinz bets here.
Royal Ascot Trainers To Watch
Recently, betting ahead of both the Royal Ascot top jockey and trainers' markets has a one-sided feel. The Aidan O'Brien camp is often a short-priced favourite in this market. But there were a number of first-time winners in 2018 and 2019 promises to be as exciting as ever with a number of trainers, in particular, to look out for.
AIDAN O'BRIEN – The Irish trainer had a fantastic 2018 Royal Ascot with a number of winners including a triumph in the Diamond Jubilee Stakes. The Ballymena team will once again be one of the main ones to watch.
JOHN GOSDEN – The Gold Cup was Gosden's main prize in 2018 thanks to Frankie Dettori on Stradivarius. It was actually the popular trainer's first ever in the prestigious race and was backed up with a couple of other wins over the five days.
ROGER VARIAN – The yard based at Kremlin House actually have one of the best overall records at the Berkshire track. With this spread evenly across all age groups then they have a really consistent feel to them.
SIR MICHAEL STOUTE – The Stoute camp added another four Royal Ascot wins to the collection last year to become the most successful trainer in the meeting's history and will be looking for more in 2019. The Prince of Wales Stakes and the Commonwealth Cup were two prizes taken by a trainer in 2018 – and he doesn't look like stopping any time soon.
CHARLIE APPLEBY – The King's Stand Stakes and the King Edward VII Stakes were two of the Newmarket-based trainer's successes in 2018 and his horses will definitely be among the ones to look out for in 2019.
Closing Comments
The bulk of the runners will be from the leading English stables, like Sir Michael Stoute, Godolphin and John Gosden. But we can also expect an army of top-class horses each year from the powerful Irish Aidan O'Brien yard.
Though, don't overlook the top American, Australian and French horses coming over to run. Many punters concentrate on the UK stables and that can sometimes mean some very attractive odds for the international stables.
Over the five days, there are 30 races to enjoy, with six contests a day. Each day will have several showcase races. While over the meeting there eight Group One races, there are plenty of other high-interest races to choose from.
It's no surprise the betting interest on every Royal Ascot race is huge with millions wagered between punters and bookmakers each year.
Make sure you check online bookies such as bet365, GentingBet and Black Type for their latest Royal Ascot 2019 offers to make the most of this prestigious event.
Find Grand National Betting Offers here.
By bet-bonuscode on